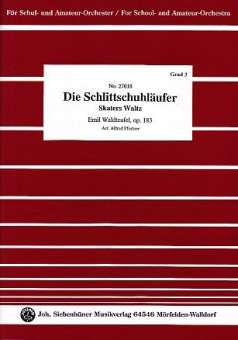 Die Schlittschuhläufer op.183 für Schulorchester
Emile Waldteufel / Arr. Alfred Pfortner
Skaters Waltz
Rote Reihe
Ausgaben für Sinfonieorchester / für Schulorchester / Orchestra
Notes about the Editions for School and Amateur Orchestra:

• Most of the pieces have been shortened and adapted to suit young orchestras.
• Full score supplied to most arrangements.
• All parts are provided with bar numbers to make rehearsals easier.
• Metronome suggestions are merely guidelines.
• All pieces are also playable in smaller groups. (such as violin and piano).
• If French horns and violas are available the pieces do not need a piano accompaniment.
• String Parts are shown with bowings and partially with fingerrings.
• The parts for 1st Violin extend as far as the third position. Only in a few individual cases they range as far as 5th position and in such cases these notes are always given in the lower octave, too
• The 2nd Violin parts usually remain in the 1st Position. Whenever they go up to the 3rd position the notes arealso provided in the lover octacve.
• The parts for Cello which were usually in the tenor clef, have been written in bass clef.
• For woodwind and brass parts special attention has been paid to using a range suitable for students and amateurs.
• The parts for A-Clarinets are often easier and more pleasant to play in many pieces. However parts for Bb-Clarinets are included for each piece.
• For Bassoon and Trombones original tenor or alto clef parts have been transposed to bass clef.
• Piano parts can be played by the Teacher or an advanced Student.


Variety

Availability *
in stock | delivery time 1-2 days


Product information
Order id:5284
Difficulty:3
Duration:6:15 min
Pages:-
publisher id:SIEB 27018
EAN:9783964184757
---
Demos
---
Other Customers were interested in
*Information on availability is based on previous experiences. Prices and availability are subject to change without notice!