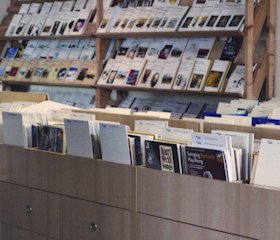 Joh. Siebenhüner Musikverlag

Originally the Joh. Siebenhüner OHG was founded in 1860 as a string factory. The head office changed from Schönbach (Egerland) to Walldorf near Frankfurt after the end of World War II.
Alfred and Ulrike Pfortner took over the leadership of the company in 1968 and changed the company direction a short time later in a music publisher. The name Joh. Siebenhüner OHG was preserved. Alfred Pfortner, who has always strived for a good education of the youth, visited the Midwest Clinic in Chicago and concluded extradition contracts with the american Company Neil A. Kjos Music Company. The usual in the US, but in Germany until then unknown Methods with brass and strings were mostly translated and enjoyed great popularity. Alfred Pfortner has translatet a lot of books from Neil A. Kjos Music Company for wind instruments, strings and piano translated into German as well as several own textbooks written.
Since March 2018 HeBu Musikverlag has taken over the Siebenhuener Company. Also the distribution of Neil A. Kjos Music Company for the european continent switched over to HeBu Musikverlag.