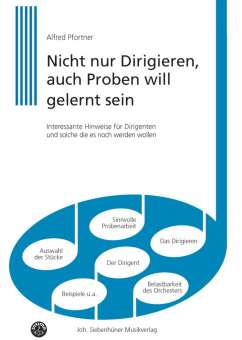 Nicht nur Dirigieren, auch Proben will gelernt sein
Alfred Pfortner
ISBN 13: 978-3-96418-531-0
This book was written in german language by the practitioner for the practice. It contains many references about conducting, rehearsing, rehearsing, the
Piece selection and much more. It is intended primarily to help young conductors of youth and amateur orchestras with a wealth of clues to achieve better results with their orchestras in the future. "There is no bad orchestra, there are only bad conductors". This old musician's saying contains a lot of truth. Therefore, the author thinks that a conductor should never stop working on himself. Mistakes should be sought first as a conductor and then first with the orchestra.
Availability *
in stock | delivery time 1-2 days


Product information
Order id:50029
Difficulty:-
Duration:--:-- min
Pages:72
publisher id:SIEB 21003
EAN:9783964185310
---
Demos
*Information on availability is based on previous experiences. Prices and availability are subject to change without notice!